Alot of wealthy persons have stated in the past that reading certain books when they were younger played a huge part in inspiring them to become the millionaires they are today. Books help to expand our knowledge and teaches us valuable lessons about the ways in which we can aspire to do great things. Reading is one of the best ways to open our minds to new ideas. People spend lots of time in particular fields and some even decide to impart what they have learnt to others in books. Here are books millionaires read before 30.
Wisdom from Rich Dad, Poor Dad: What the Rich Teach Their Kids About Money–That the Poor and the Middle Class Do Not! by Robert Kiyosaki and Sharon Lechter
This book was written with the intent of teaching others about financial literacy , building wealth and gaining financial independence by investing, starting you own business or investing in real estate. This book is a must read for those who are looking to increase their financial intelligence. The book was written in 1997 but still remains one of the most important books to entrepreneurs in today's age where investing is one of the best ways to garner success and wealth. This is considered a must read by many of the World's elite and this is why it is in the number 1 spot for books millionaires read before 30.
2. "The Start-up Hero's Pledge," by Tim Draper.
Tim Draper is a billionaire investor , venture capitalist and bitcoin aficionado . He wrote a book and decided to release each chapter for free on Medium. He wanted his philosophies and ideas to be accessible to all In the chapters he has released he goes over his thoughts on freedom , investments and decisions. He writes about his philosophical approaches to life and work as a early backer of Baidu and Skype. The chapters that he has released are filled with great stories that deliver life lessons that we can all apply to our own lives.
3. "Performance Partnerships: The Checkered Past, Changing Present and Exciting Future of Affiliate Marketing," by Robert Glazer
Many people seem to think that Affiliate Marketing is a old school marketing strategy but this book makes the doubters question their beliefs. Robert's book about the subject of Affiliate marketing draws on information and ideas from leaders and influencers in the field to show why it is something you should consider adding if it is not already apart of your marketing strategy. He also shares his beliefs about performance partnerships believing that they should be expanded and leveraged now and in the future. This is a must read for anyone in the Affiliate marketing industry who is struggling to gain revenue or thinks affiliate marketing is no longer relevant.
4. "Radical Candor: Be a Kick-Ass Boss Without Losing Your Humanity," by Kim Scott.
This book is for anyone who has a team which they have to lead. This book puts the concept of leadership into serious perspective, mainly for those who run virtual teams and don't often physically interact with their subordinates enough to see their talents. Kim provides examples of her experiences leading teams at Google and Apple in order to show how to care deeply for your employees.
There is a framework in the book that explains how to be a better boss and colleague by making better and faster decisions , offering better feedback and how to do more through both caring about people and challenging them directly.
5. "You Are a Badass at Making Money: Master the Mindset of Wealth," by Jen Sincero.
Sincero has written a truly extraordinary book which is a very fun to navigate financial manifesto that teaches about how to make money and develop a mindset of wealth. Alot of persons want to learn how to better handle their money or make better financial decisions for their businesses, while most might fail this book helps you to address the mental challenges hampering you from achieving your desired income. This book is easy to read and can help you to manifest real financial changes into your lives.
6."The Upstarts: How Uber, Airbnb, and the Killer Companies of the New Silicon Valley Are Changing the World," by Brad Stone.
If you are a person that is looking to change the World in one way or another then this is the book for you. The book goes over how companies like Airbnb and Uber have changed the world of business that we now know today. The book inspires change in everyone who reads it.
7. "What To Do When Machines Do Everything: How to Get Ahead in a World of AI, Algorithms, Bots, and Big Data," by Malcolm Frank, Paul Roehrig, and Ben Pring.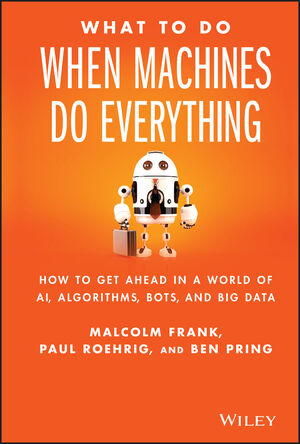 With the world we live in today computers can do almost anything. The impact of AI and machine learning in today's society has allowed many companies to go beyond their realm of thinking and ideas. This book moves pass the media's idea of Ai and machines in many businesses being all doom and gloom and paints a clearer picture of what the technological age will look like in the future and how it will affect businesses.
8."Learn Better: Mastering the Skills for Success in Life, Business, and School, or, How to Become an Expert in Just About Anything," by Ulrich Boser.
This book gives you ideas on how to meet the learning curves that you are looking to surmount as you go forward in the future. People in life usually approach learning with the methodologies of memorizing numbers , words and details .This approach does not seem to work for many and so this book teaches that better techniques come from the simple methods which are described in this book.
9. "Giftology: The Art and Science of Using Gifts to Cut Through the Noise, Increase Referrals, and Strengthen Retention," by John Ruhlin.
This book was released in 2016 and still remains as a great book to read if you are looking to use gifting as a strategy to yield positive results. The author reveals that there are also wrong ways to go about giving gifts . He gives numerous stories and points of data to prove his point.
10."Hug Your Haters," by Jay Baer.
This is the first customer service book written for and about modern times . It discusses the topic of customer expectation in a Social media lead era. The author wrote this book to help readers let go off the idea of legacy forms of customer service like emails and move on to more effective methods for better living up to customer expectations. The book teaches you how to embrace complaints and turn bad news into good news , which transforms haters into ambassadors for a brand.
I hope you enjoyed these books millionaires read before 30. I hope you feel inspired after reading this article and these books.